BOSCH Cordless Impact Driver 18V GDR180
Additional data
Battery voltage*
18 V
Torque, max.*
160 Nm
No-load speed
0-2,800 rpm
Weight excl. battery
1.02 kg
Impact rate
0-3,600 bpm
Tool holder
1/4″ internal hexagon
Screw diameter
Screw diameter*
M 6 – M 14
Total vibration values (Tightening screws and nuts of maximum permitted size)
Vibration emission value ah
9.5 m/s²
Uncertainty K
1.5 m/s²
* Highlighted Data
The A-rated noise level of the power tool is typically as follows: Sound pressure level dB(A); Sound power level dB(A). Uncertainty K= dB.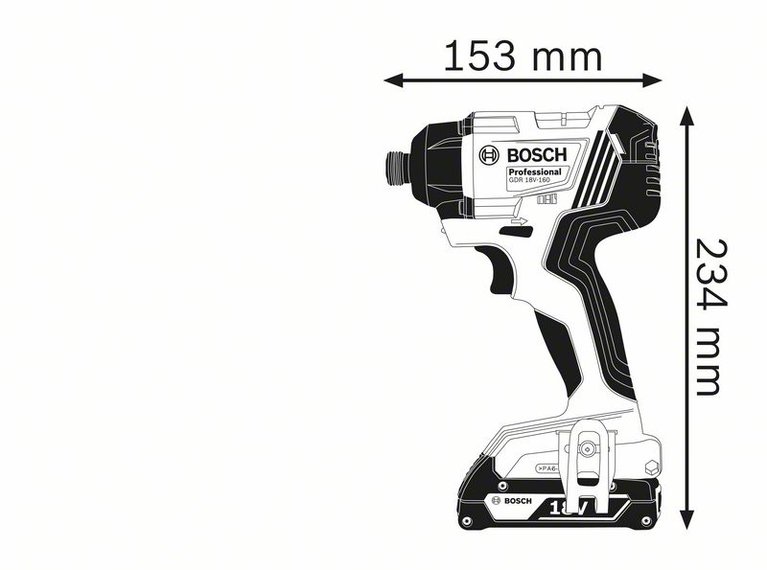 Advantages
Powerful and robust Impact Driver gets the job done faster
High torque, high impact rate and fast rotation speed for fast screw driving and drilling into metal and wood.
Durable design with robust gearbox, open frame motor and battery cell protection ensuring a longer lifetime.
Easy to service: Gear box and carbon brushes can be replaced easily.
Includes:
Carrying case
2 x 1.5 Ah Li-ion battery
Charger GAL 18V-20 Professional
4 in stock